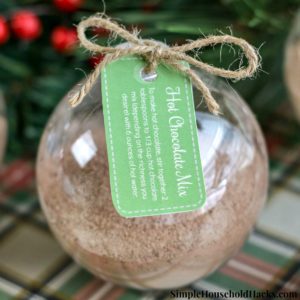 Homemade Hot Chocolate Mix Recipe
This makes 6 cups of hot cocoa mix.
Add the instant dry milk powder, powdered sugar, cocoa powder, powdered French vanilla coffee creamer, and a pinch of salt to a large bowl.

Whisk all of the ingredients together until they are thoroughly combined.

Use in the ornaments by removing the caps from the ornaments, use a funnel to add at least ⅓ cup hot chocolate mix to each ornament. Replace the cap. Attach the printable tag with twine or ribbon.

To serve: add 2 tablespoons to 1/3 cup of the hot chocolate mix to 6 ounces of hot water.