This Gel Stain Remover is a must in a household with kids, pets, husbands – any or all of them!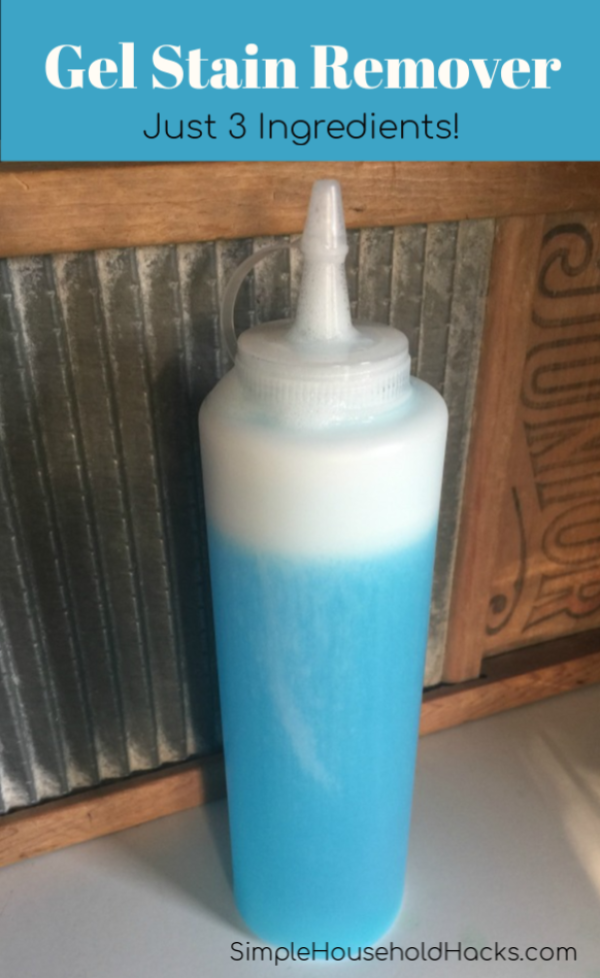 I have kids, a husband, and a clumsy streak…therefore I have stains… lots of them.  Tired of buying pricey and chemical laden stain removers at the store I turned to make my own. This is a great all-purpose Homemade Gel Stain Remover that works on everything from chocolate pudding to blood and is just as good as anything you can buy.
Gel Stain Remover Recipe – Just 3 Ingredients
You can make this homemade stain remove thinned out with a little water in a spray bottle to cover larger areas or make it in a mason jar and apply with a toothbrush to stains but I have found the easiest method is to make it in a squeeze bottle with a small tip for application. Be sure to label your bottle so everyone knows what's inside.
Ingredients:
¼ cup Dawn dish soap

½ cup hydrogen peroxide

2 T. baking soda


Directions:
Place all ingredients in a squirt bottle. I grabbed a 2 pack of clear condiment bottles at Dollar Tree and they are perfect because the small spout gives you great control over where your stain remover gel goes.

Replace cap and shake vigorously to combine all your ingredients, don't forget to cover the hole in the tip with your finger or you may be wearing it before you need it!

Let your mixture sit in the sink or on a towel for a bit as it will fizz and bubble over, let it run its course, do not close the cap on the end as it will build up the pressure and shoot up to the ceiling…don't ask me how I know this…
To use the gel stain remover:
Shake well before each use then apply your stain removing gel to the garment stain, let it sit for 15 minutes (or even overnight if its a really bad set in stain).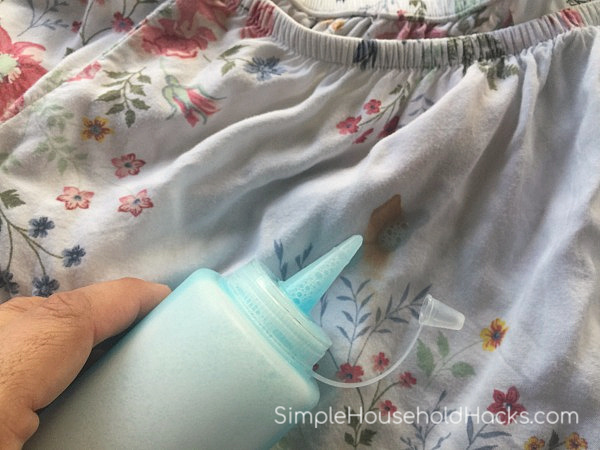 2. Toss the stained item into the washer and wash as usual.
3. If your stain is really stubborn you may need to repeat steps 1 and 2 before placing clothing in the dryer, where heat may set the stain.

More Simple Household Hacks You Have to Try!
How To Clеаn a Stаinlеѕѕ Steel Sink