White shoes look great and often fit the requirements for school sports and dance teams. Unfortunately, white shoes are dirt magnets and seem to find every mess you walk past. White shoes are surprisingly easier to clean than you think. Here are the instructions for how to clean white shoes.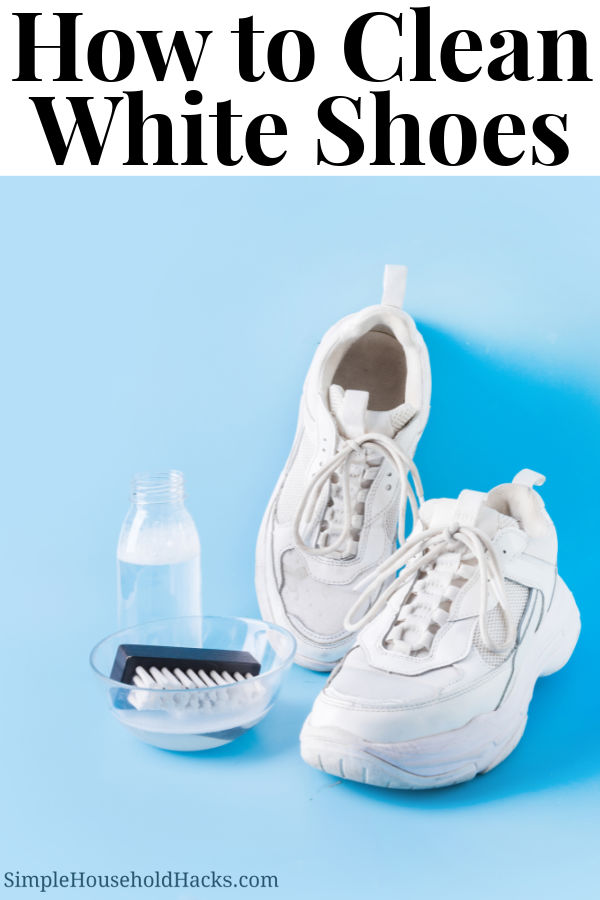 How to Clean White Shoes
Do you switch to white shoes after Easter? Use the tips below to ready your white shoes and keep them in great condition through Labor day!
Tips for Cleaning White Shoes
1. White cloth shoes can be scrubbed down with a baking soda and hydrogen peroxide paste to break down dirt. Then wipe off the baking soda with a damp cloth. Allow your shoes to air dry.
2. Scuff marks on white shoes can be highly annoying. Take a rubber eraser and quickly and easily remove dark scuff marks from your white shoes.
3. White heals can be hard to keep up. Wipe down with a magic eraser and use a bit of white shoe polish to bring back the smooth white of your favorite heels.
4. Keep a small pack of baby wipes in your purse or car. Wipes are a great way to get rid of scuff marks on the heels while out of the house.
5. Hide scratches in your white shoes with white nail polish. When laces become dingy remove to wash with warm water and dish soap.
6. Need something a bit stronger to get tough stains out of your white shoes? Mix hydrogen peroxide, Baking soda, and Dawn dish detergent to create a paste. Rub on and let sit for 30 to 40 minutes before scrubbing off and rinsing with cool water. Then allow your shoes to air dry.
Tips for Cleaning White Tennis Shoes, Sneakers, and High Tops
1. The rubber soles of white shoes can easily be cleaned by spraying with a bit of Windex or your favorite spray cleaner and a little elbow grease with a toothbrush.
2. Leather top sneakers can be sprayed down and wiped with a microfiber towel for quick easy cleaning. This is great for spot cleaning before you run out the door.
3. You can wash your white sneakers in the washing machine by placing them into a pillowcase or laundry bag. Wash with cold water to avoid shrinking parts of your tennis shoes and air dry.
More Laundry Cleaning Tips