Learn these easy solutions to common laundry stains.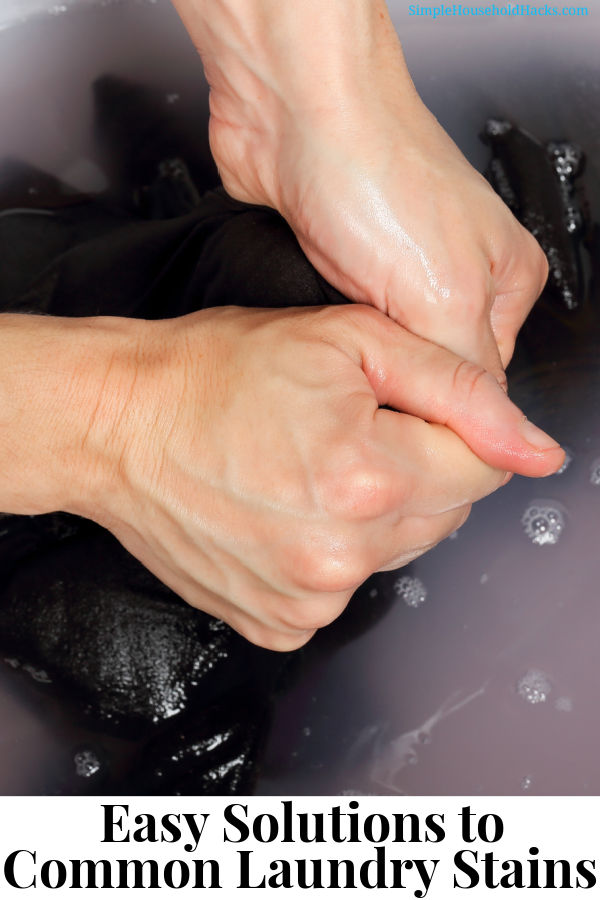 No matter how hard you try, it's pretty inevitable that at some point even your favorite shirt will get a stain on it that you won't know how to tackle. Since our clothes are made to be worn, this means will wear them in all kinds of situations including meals and play. The good news is, you can remove common laundry stains easily and worry-free. Here is some easy solutions to common laundry stains.
Easy Solutions to Common Laundry Stains
Before you get to dealing with your laundry stains, make it easy on yourself by not allowing them to set in if possible. For most stains, this means not applying any heat pressure or time. if it all possible, remove the article of clothing and wash it right away. if this is not feasible, go immediately to the washroom and dab the stain with cold water. Now let's look at some common stains and how to remove them.
Tomato based stains– Remove as much of the Tomato product as possible from your garment. Next, dab the area was cold water. Finally, treat with a stain-removing product or a little bit of laundry detergent. Gently rub it in or sprayed on and allow to soak. be careful to examine your garment after it comes out of the washing machine to make sure the stain is gone before you dry. Drying will set the stain so you want to make sure that it's all gone before you do so.
Milk or dairy-based stains– Remove as much of the dairy product is possible off your garment. Then, apply detergent, preferably liquid, and gently work it into the fabric. If the stain is very deep, allowed to soak no more than a half hour. If possible, wash right away.
Body soil stains such as blood– For blood, you will want to wash the garment as soon as possible. Treat the stain before washing with a mixture of a bit of liquid laundry detergent or liquid dish soap, cold water and hydrogen peroxide. Wash your garment in cold water and make sure the stain is gone before you dry it.
Dirt or mud– Mud is actually very easy to remove from clothing. Just allow the mud to dry and scrape it off or even shake it off. If some dirt or mud remains, use a little bit of detergent to clean it off before throwing it in the cold water wash.
Grease, oil or butter– This stain must be treated immediately for best results. Use dish soap to rub into the oil or grease stain. just like with your dishes it should remove grease. rinse with cold water and repeat if necessary. Wash in cold water in your washing machine. Also, make sure the stain is gone before drying or it will set and be very difficult, f not impossible, to remove.
Makeup and chocolate– These things are very similar. Remove excess makeup or chocolate from your garment. Next, treat with a little bit of club soda or rubbing alcohol mixed with some laundry soap. Repeat this until the stain is gone. Wash in cold water.
I have used many things over the years for stain removal. By far, one of the best is good old-fashioned Shout. I actually buy it by the gallon. additionally, an enzyme cleaner is also good for removing stains such as blood. I recommend Zout.
Links