These time-saving laundry hacks can help transform your laundry day.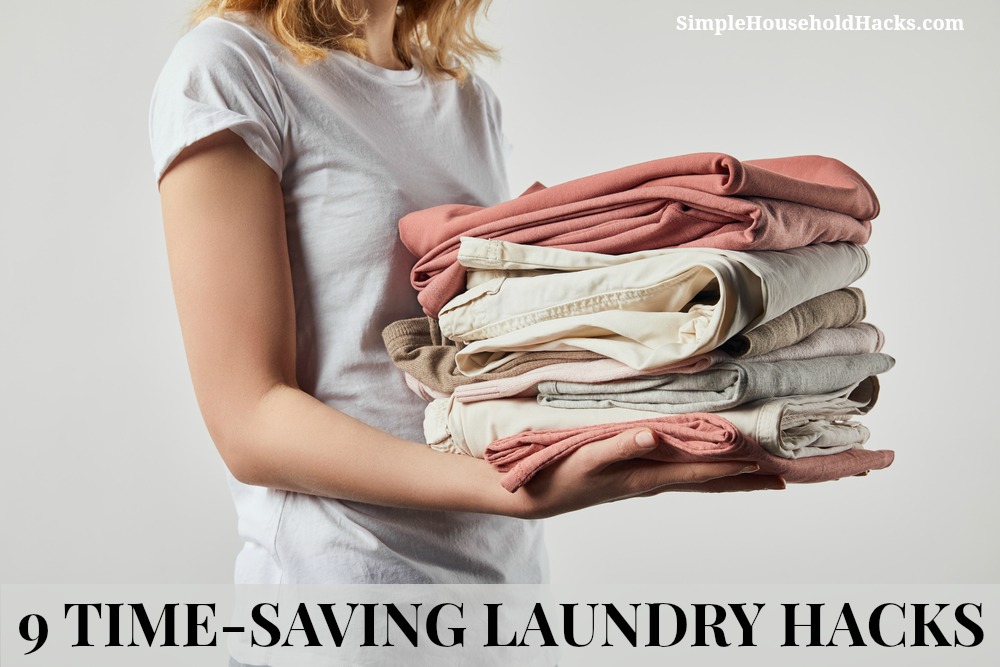 Laundry is a time-consuming process. It can also become a never-ending project if you take your time and spread it out over a week. However, it is possible to have your laundry done in just one day if you commit to it.
I know that many people recommend having kids over a certain age do their own laundry, but I have found that this makes laundry a torturous project for all of us. All it takes is one child to fall behind and everyone is delayed. Instead, I wash and dry all of the laundry, but each child is in charge of folding and putting away their own clothes. This allows me to keep to a schedule and get all of the laundry done in one day.
Think you can't get all of your laundry done in one day? Get a jump start by washing your first load the night before. Then when you wake up, move it to the dryer and start your second load. Voila, you just got ahead of schedule!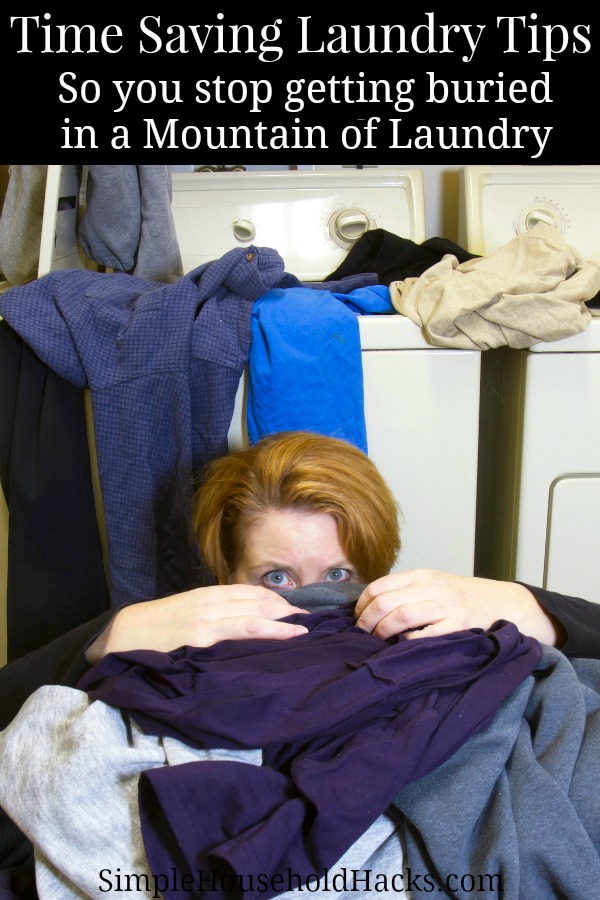 9 Time-Saving Laundry Hacks
Use our easy tips for saving time on your next laundry day!
1. Pre-treat laundry as soon as it gets stained.
Pre-treating stains will prevent you from having to wash the garment multiple times, or worse, toss it out. Check children's clothing before they undress at the end of the day so you can help prevent missing a stain.
Laundry Tip: I use velcro sticky back hook and loop strips to attach a Spray  'n Wash Laundry Pre-Treater Stain Stick to the side of the laundry hamper in each room. This makes it easy for each person to pre-treat a stain before the item is thrown in the hamper.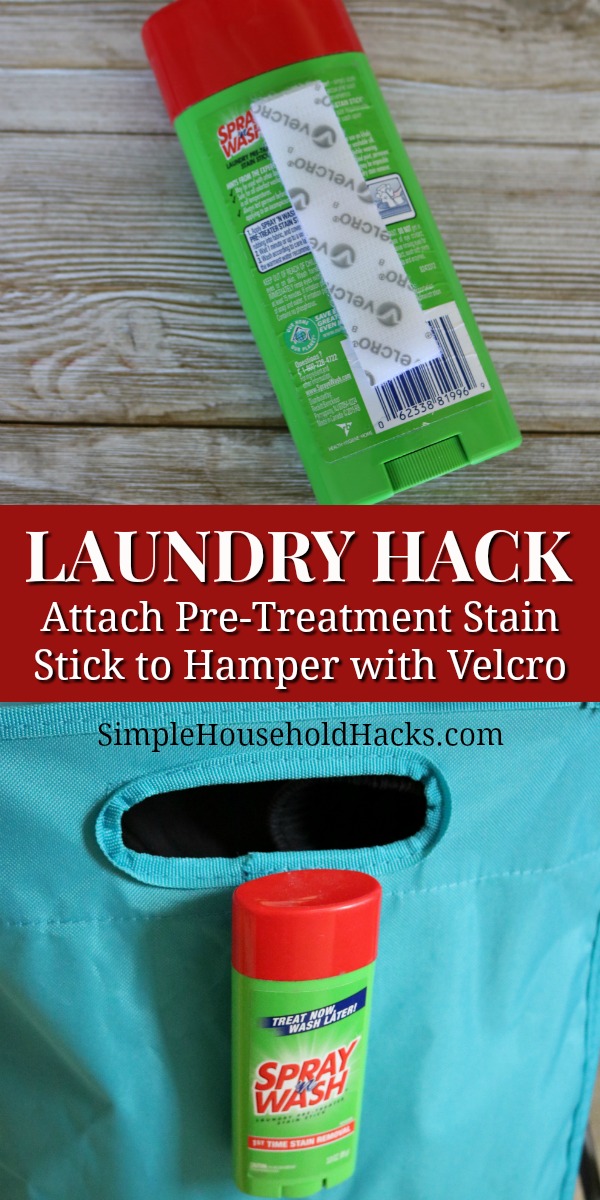 2. Empty Pockets
Check all of the pockets and empty them before putting clothing in a hamper. Also remove belts, suspenders, brooches, name-tags, and anything else just before you place the clothes in the hamper. This will cut down the time you spend inspecting each piece as you put the clothing in the washer.
Express the importance of removing toys, candy, tissues, pens, crayons, and other items from clothing to your child, so laundry accidents don't occur. If this is an ongoing problem, call your child to the laundry room and have them check all pockets before putting an item in the washer. It only takes a couple of times of doing this for them to get in the habit of checking their pockets before putting dirty clothes in the hamper. Reminding teens that the washerwoman gets to keep any money she finds usually guarantees they will check their pockets thoroughly.
3. Turn clothes right side out
If you want to save time later when it comes to putting away clean clothes, turn your clothes right side out before putting it into the laundry hamper. I realize that we are often told to wash clothes inside out to extend the life of the clothes. But I have to be honest with myself and admit that I would rather save time in the near future than wear my jeans for an extra month or two.
4. Sort your clothing the moment you take it off.
If you have room and you and your spouse share a laundry hamper, consider using a hamper with 3 bags to easily sort light and dark clothing. The third bag can be used for towels and other linens.
Each of your children should have a hamper of their own, so you can keep their clothes separate from everyone else's clothes. Wash their laundry individually, to reduce the amount of sorting you have to do both before and after clothes have been washed and dried.
Laundry Tip: To safely wash a load of your child's clothes that includes a mix of colors and whites, add a SHOUT ColorCatcher Dye Trapping Sheet to the load. This is how I reduce laundry loads while washing each child's clothes in a separate load of laundry. I don't mix brand new jeans or red clothing in with other clothes, but once they have been through a couple of cycles and are no longer shedding tons of dye, I will add them to mixed loads.
5. Adjust the settings on the washer
Choose the appropriate water level and washing cycle to make the cleansing more time-efficient. Choose the lowest water setting you can and avoid a second rinse unless it is really needed. The less time the clothing is in the washer, the sooner it will be dried, folded, and put away!
6. Set a timer if needed
Set a timer on your smartphone to keep with you as you wash and dry the laundry. Some machines have a built-in timer, but it may be difficult to hear if you aren't near the utility room when it goes off. The timer will also prevent you from checking on the clothing too early, wasting time that you could be focusing on other tasks.
7. Clean the lint filter
Cleaning the lint filter before each use will make your dryer more effective, so it will take less time to dry your clothing. If you have a particularly fluffy load of towels or sweats, you may want to clean your lint filter halfway through drying the load too.
Laundry Tip: You can further reduce the amount of time it takes to dry your clothing by using dryer balls. The dryer balls bounce around among the clothing, which helps to circulate hot air and cuts drying time. Here is how to make your own dryer balls.
8. Adjust the settings on the dryer
Set the dryer to the appropriate time and choose the fabric type so that your laundry dries in the least amount of time needed. T-shirts and thin-button down dress shirts will take less time to dry than heavier clothing such as sweats and jeans. Keep this in mind when deciding how long to let the dryer run before you check it.
Laundry Tip: What about the items that don't go in the dryer? I wash a load of sweaters or other delicates, right after a heavy load like jeans or coats. Why? Because I know that the heavy load will take longer in the dryer, so I can quickly wash the delicate load and hang them to dry, then put another load in the washer. The second load will usually complete the wash cycle by the time the heavy load is ready to come out of the dryer.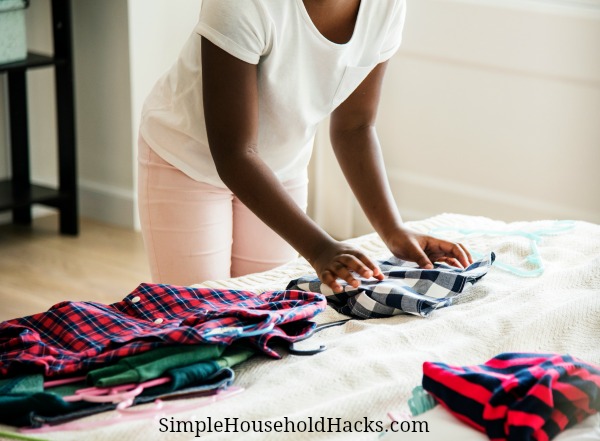 9. Fold or hang clothes ASAP
Remove the dried laundry from the dryer and take it to the respective rooms to fold. Fold the laundry as soon as it's removed from heat or else you'll be spending time later ironing or re-tumbling it in the dryer. Folding the laundry in the room it belongs in ensures that your laundry doesn't sit in piles on the couch or the dining room table for several days.
If your children are old enough, have them fold and put away their own clothes to save you time. Fold the laundry as soon as it's removed from heat or else you'll be spending time later ironing or tumbling it in the dryer.
If for some reason, you or your child can't fold or hang up the clothing right away, lay it flat, so that it doesn't get wrinkled while waiting to be folded and put away.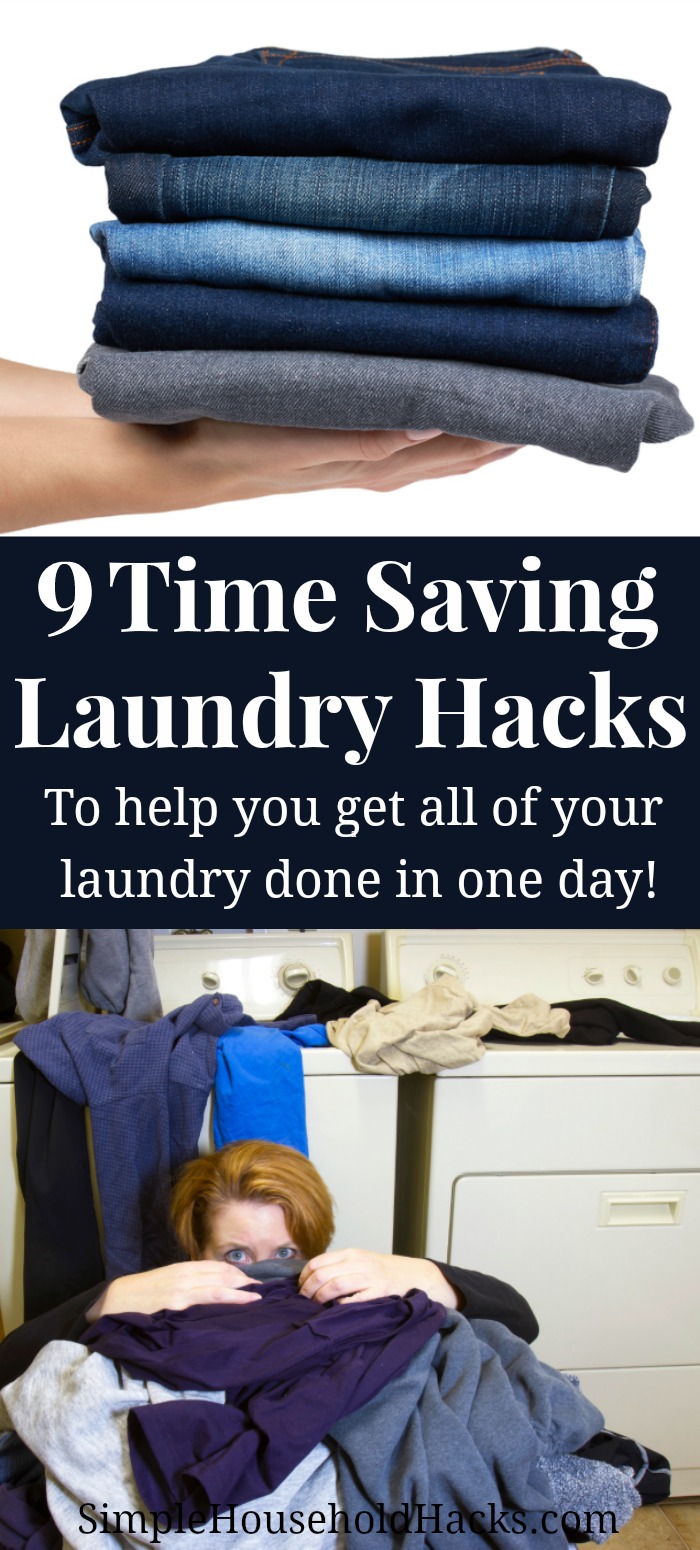 I always do my husband's work clothes last. That way if I am running late on getting the laundry done, he will be home when they get out of the dryer and he can help hang them up and put them away.
Try these time-saving laundry hacks and let me know how they work for you!
How do you save time on laundry?
More Laundry Hacks: