Drowning in Spot and Fluffy's pet hair? These Pet Hair Cleaning Hacks can help you tame the beast…or at least its hair.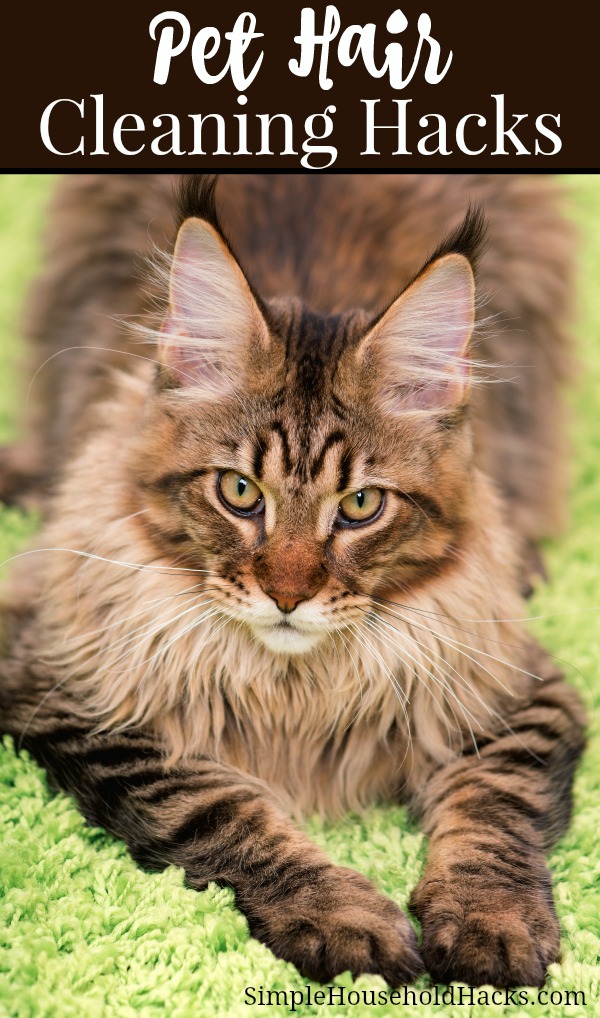 With 3 dogs and a cat, my house looks like a Pet Supermarket exploded in it. Toys treats, and pet hair EVERYWHERE! As much as I love them I get so tired of pet hair on everything we own. I learned a few Pet Hair Hacks for staying ahead of the furry mess and want to share them with you.
Tips to Reduce Shedding
First, consider upgrading your pet's food to a higher quality. This alone will reduce some of the sheddings in your home.
Wash and brush your pets often to remove as much excess pet hair as possible, keeping it off your furniture and floor.
Pet Hair Cleaning Hacks
Despite a great diet and frequent grooming, our cats and dogs will still shed. It is usually worse in the spring when they lose their winter coat. Use the tips below to quickly and easily clean up the pet hair from your home.
How to Clean Pet Hair off Furniture
Some of the best cleaning tools for pet hair are already in your home.
Use a lint roller on curtains, furniture, and lampshades to quickly remove pet hair from soft surfaces.
For big jobs like the couch, you can wrap duct tape backward over a paint roller to pick up pet hair. You might want to add a nozzle attachment to your vacuum and vacuum your upholstered furniture.
Textured rubber gloves make a great pet hair remover for furniture or to quickly run over the top of your bed after Fidos afternoon nap!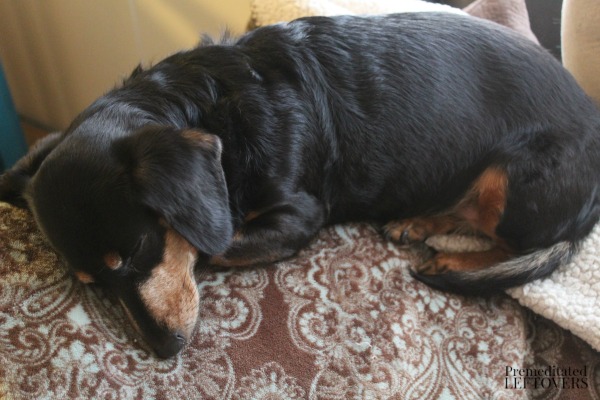 Cleaning Pet Hair from Flooring
If you have carpeting or rugs you can use a squeegee to remove hair. Just press and run it across carpeting to gather most of the pesky pet castoffs.
Dry mop daily to stay on top of it,  use pads that are heavy duty specifically for pet hair like these Swiffer Sweeper Pet Pads. Or you can slip a thick fuzzy sock over your Swiffer to quickly pick up fur and they are reusable after washing!
Cleaning Pet Hair from Window Coverings
Cats like to hide in the windows and dogs curl up behind the curtains. Furthermore, pet hair floats and lands on all your household surfaces. So don't forget to wash your curtains and dust your blinds. If you don't have time to wash your curtains, you can roll a lint brush over them. This will cut down on the hair in your home.
More Home Cleaning Hacks