Use these Dollar Tree Marie Kondo Hacks that help you organize your spaces in a practical way without breaking the bank.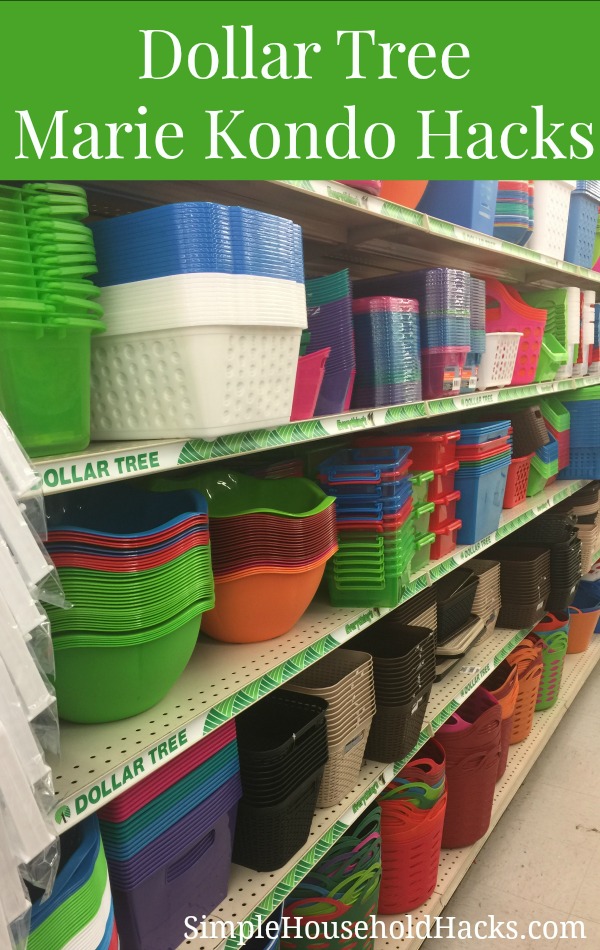 The Life-Changing Art of Tidying Up, Marie Kondo, Konmari – all of these are buzzwords that you have not been able to escape if you are on any kind of social media this month. Have you wondered what it's all about? Or maybe you wonder how to make it work in a simpler fashion? I am here to help!   Today I am sharing some super easy Dollar Tree Marie Kondo Hacks that anybody can make work and you are not even required to thank your 1984 Van Halen T-Shirt for allowing you to wear it.
Dollar Tree Marie Kondo Hacks
First, clean up and purge items use Marie Kondo's method of asking: Does it Spark Joy? But in a real mom kinda way. Is it useful?  Is it beautiful? Does it fit into your current lifestyle? If not you can probably live without it and will actually be better off by ridding your home of clutter. Here are more Marie Kondo Organization Tips to get you started.
After you have decluttered, it is time to organize what you have kept. Marie believes that each item should have a home. If possible, it is best to use containers that you can both see through and also be able to store the items vertically within the container, so you can easily see each item at a glance.
In the kitchen
Use larger containers to hold individual packages of oatmeal or grits, hold snacks like granola bars and even pasta. Use the same size and color on each shelf and it will look much neater. Without boxes falling over and items stacked so you can't see everything you will also have less food waste and won't be buying items you already have again. I am not quite finished and look how much better the pantry looks!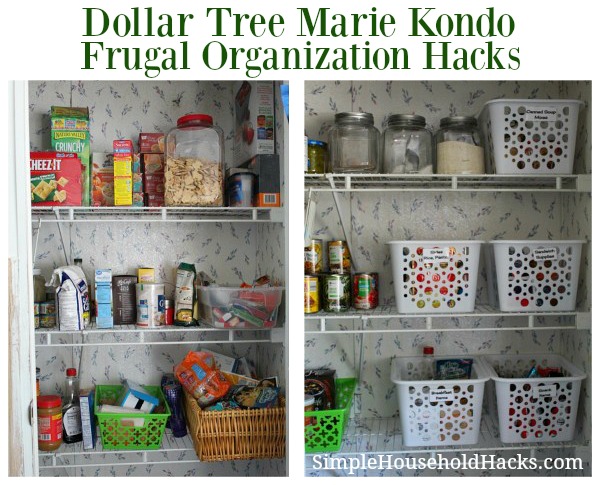 Don't leave out the refrigerator! Use baskets in the fridge to hold snacks, juice boxes, pre-cut fruits and veggies and more. You don't have to spend a ton, you can see everything better,  and your refrigerator will look great.
If you don't use a spice rack a nice shallow bin can hold your basic spices and be kept in a cupboard near the stove.
Use small shallow plastic containers to organize the drawers- cords, batteries, and pens in the junk drawer, to contain takeout condiments, and small kitchen gadgets. Once your drawers are cleaned up and cleaned out and you have a place for everything you are not going to want to let it turn into a mess again.
Here is the before and after from where I redid my kitchen junk drawer. As you can see I even ended up with an empty basket because as I was cleaning the drawer out I moved a few things to places that made more sense in the kitchen or its rightful home elsewhere. I am sure that empty basket will go to use eventually!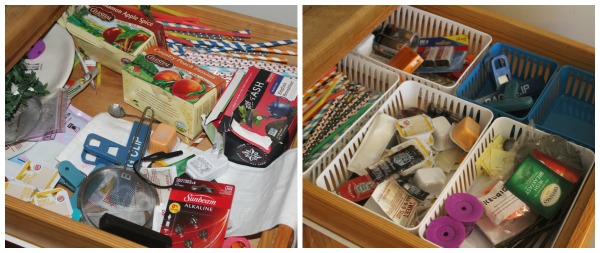 In the bathroom
Containers on the back of the toilet, under the sink, in drawers, on shelves, or in the linen closet can house travel-sized toiletries, hair ties, makeup, and anything else you keep here.  If it doesn't have a home it needs to go! We have this little cabinet above the commode in the kid's bathroom and these little Dollar Tree bins are perfect for holding items like toothpaste, toothbrush, barrettes, bath bombs, and more.
Be sure to grab a handled basket to keep in the bathroom under the sink with all the cleaning supplies you will need. You are more likely to tidy up the bathroom more often if everything is there within easy reach and tidy.
Roll washcloths and store in a small pretty basket.
In the bedroom
I have added small containers to my drawer to contain my socks and unmentionables as well as on my side table for holding change, emptying pockets, keys, my book light etc…  
Buy the largest bins you can find at Dollar Tree and place them on closet shelves for seasonal items, hats, leggings and workout wear. 
Purchase a larger plastic under the bed bin and place smaller bins from Dollar tree within it to sort items you need to keep handy but out of sight.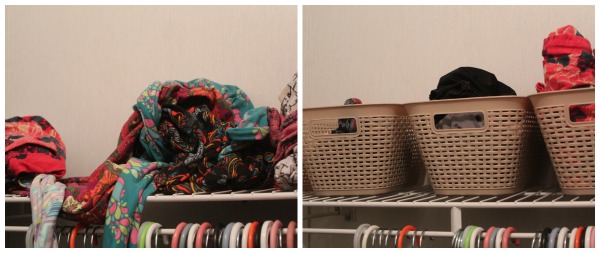 In the laundry room
Grab a small pretty plastic basket to use in your laundry room for hand wash items rather than tossing them on top of the washer or dryer.
Keep laundry soap, liquid fabric softener, dryer sheets, and stain remover in a bin to keep it tidy.
Pretty jars can hold clothespins,  wool dryer balls, and other useful items.
Spending just a little at a time at Dollar Tree can help you get everything tidy and organized.
How to Use Marie Kondo's Organization Tips
While Marie Kondo's tips are great, they may not work for every family.  Work on organizing your home room by room if that works better for you.
Use clear containers or baskets with a wide weave that allow you to see what is inside whenever possible. If you can't find a see-through container, they use labels to mark the contents of the container.
Start by using containers that you already have on hand, then make a list of what containers you need.
I went and filled my cart with everything I thought I might need, whatever didn't work I took back and exchanged for different sizes. However, you can buy 10 containers at a time if that's what you can afford.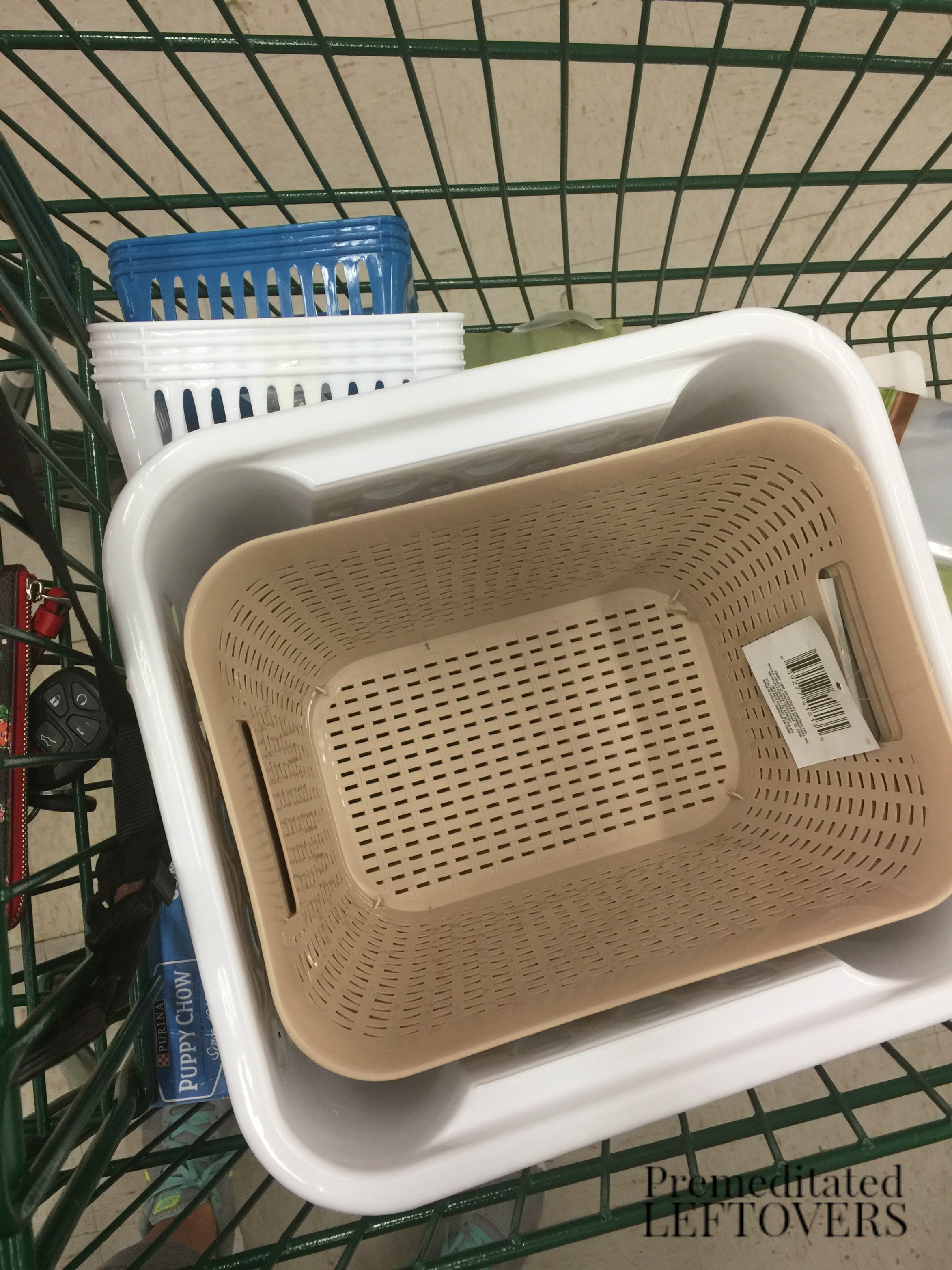 A $50 investment at Dollar Tree can make a big difference in your home now and will help to keep things tidy in the long run.
More Marie Kondo Hacks
Marie Kondo Organization Tips for the Rest of Us
Marie Kondo Organization Tips for Kids
How to Use the Marie Kondo Methods to Organize Your Digital Life