Here are two ways to remove acrylic nails at home when you can't get to the nail salon.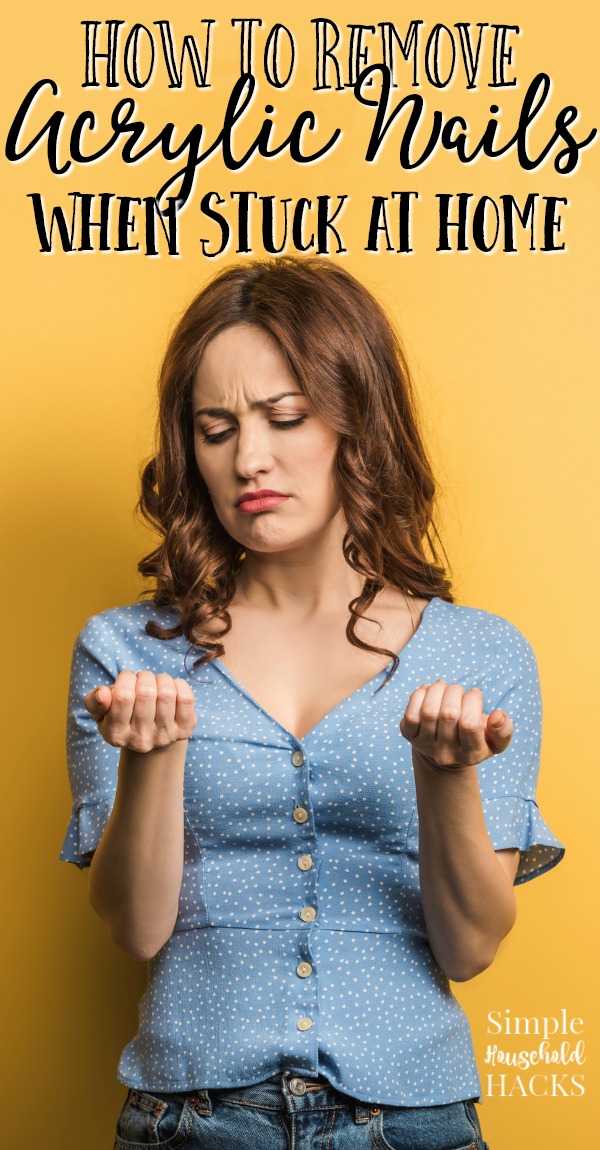 It's happened to most of us a time or two; we go way too long between fills and our nails start to look unacceptable. There are lots of reasons why you may not make it back in time for a fill, but you don't have to end up ripping them off and doing lots of damage to your already fragile nails. There are ways to remove them at home that are safe and can help keep your nails from being completely torn. Here are some tips on how to safely get rid of acrylic nails when you can't get to the salon.
How to Remove Acrylic Nails At Home
There are a few things you will need in order to remove acrylic nails at home. All are easy to find and you may even have some at home right now. The one that you may not have is pure acetone, but this can be purchased online very easily.
Supplies Needed:
Aluminum Foil
Cotton Balls
Nail Clippers
There are a couple of ways to remove acrylics, but I will go over the two most common and easiest ways using only the tools I listed. You don't need any special bit or drill to do these at home.
The Soak off Method for Removing Acrylic Nails:
Clip your nails down as far as possible close to your natural nail length or the length you desire them to be.
Using the acetone and cotton balls, take off as much polish as you can. Buff it off if you need to. The more polish you remove, the more the acetone can soak down to the acrylic for easier removal.
Fill a small glass bowl with 100% pure acetone. Stick your nails in and soak off for five minutes.
Take each nail and use a cuticle pusher to try to get under the acrylic and remove it by gently prying. Don't force it. If a nail won't come off easily, soak for an additional 5 minutes.
Repeat this process until your nails are done. After, make sure to use cuticle oil or deep moisture lotion on your cuticles and nails as the acetone can be harsh on your skin. You can also buff your nails for a smooth finish.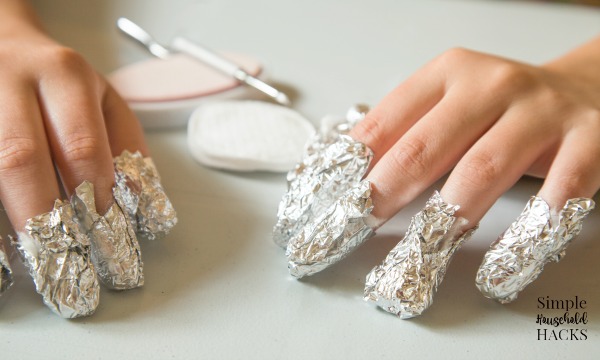 The Aluminum Foil Method for Removing Acrylic Nails:
This method can be great if you aren't wanting to just sit with your nails in a bowl and need to have some use of your hands.
Clip your nails as short as you want them and as short as your natural nail is.
Buff to remove any top coat and polish. You can use acetone to help remove any remaining coats.
Now, cut off some pieces of aluminum foil that are about 2-3 inches squared. These will be used in a second and it's much easier to do this if you cut beforehand.
Soak a cotton ball in 100% acetone and place it over the top of your nail. Using a piece of aluminum foil, wrap each nail in it to hold it secure.
Leave on your nails for approximately 20 minutes. When you take them off, try to remove the nails with the cotton balls by applying some pressure and swiping. If it still stays, soak a little longer or use a cuticle pusher to gently remove.
Buff and shine your nails and apply cuticle oil and lotion for healthy nail beds.
More Beauty Hacks:
How to Cover Your Roots When You Can't Get to the Hair Salon