Face masks are here to stay for a while and since they are most of us have started wearing cloth face coverings. Use these tips on how to clean a face mask to regularly disinfect your fabric face mask.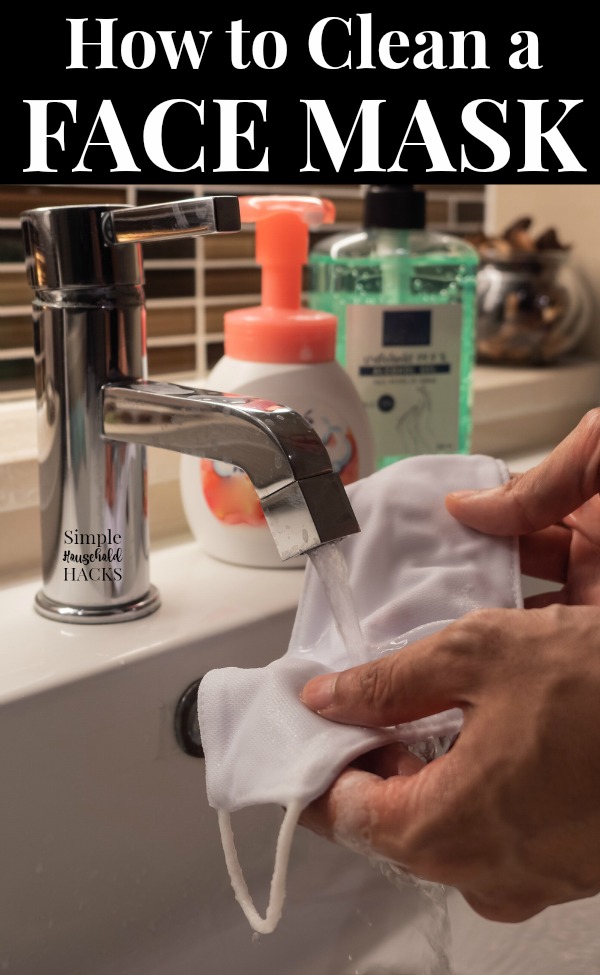 Now that face masks have become part of our everyday lives, it is important to know how to take care of them. You want your face mask to not just last longer, but to offer as much protection as possible. Proper care and cleaning can help extend the life of your face mask as well as offer you appropriate protection. If you aren't sure how to clean your face mask, don't fret. Below we will show you how to clean a face mask so you can be sure you are taking the proper steps to a clean, effective face-covering!
Below we will break down how to clean your mask both in the washing machine and by hand. This way, you have two options when it comes to keeping your mask clean. When discussing how to clean face masks, we are referring to specifically fabric face masks. Fabric face masks both homemade and purchased are quite popular for day to day use. Please note that surgical masks, paper masks, blue surgical masks, and N95 masks are not reusable. Do not try any of these cleaning tips on these disposable masks, as they should be discarded after one use.
How often should my mask be cleaned?
Johns Hopkins recommends that face masks be washed after each and every use. For some, this might mean washing masks daily. For others, it may mean every few days. The idea is that you wash after each use no matter how little or long you wore the mask. A backup mask is always advised, so you have another option to wear while your main mask is cleaned.
How to Clean a Face Mask
Before you wash a cloth face-covering test it, by washing it with soap and water in your sink to see if the fabric is color-fast. If the dye bleeds, be sure to wash your mask with like colors if you put it in the washing machine. You can also add 1 cup of vinegar to the rinse cycle to help hold in colors. You can also use color-catcher laundry sheets, which trap dyes during the wash cycle to prevent damage from the color bleeding.
Fabric Masks
This category includes masks made from cotton or other fabrics/fabric blends. This may include homemade masks, bandanas, and other fabric face coverings. Most homemade masks will fall into this category as they have been the most accessible for people.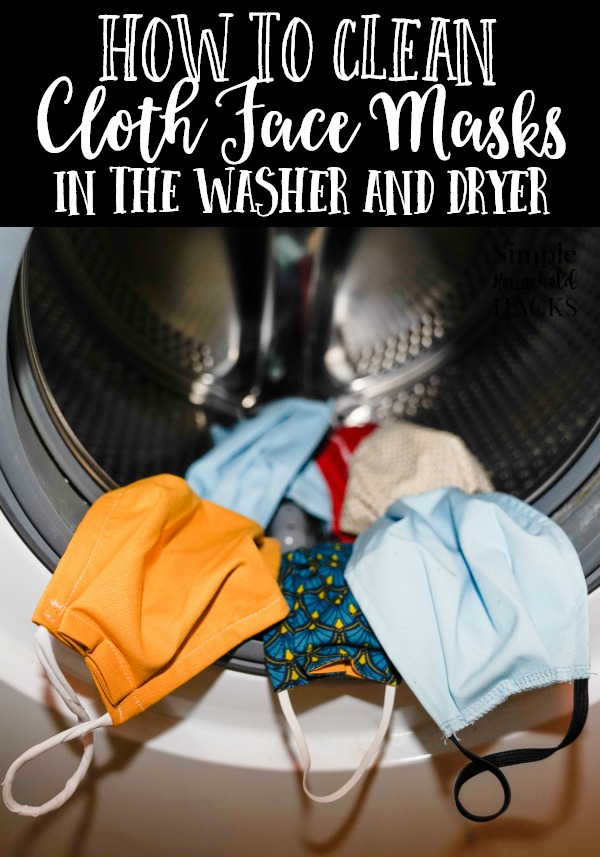 How to clean cloth face masks via washer and dryer:
If you add your masks to a load of linens or clothes, you may want to put them in a lingerie bag to make it easy to find the masks while also preventing the loops from getting caught and tangled up in the other items.
1. Wash on a regular cycle using hot water
2. Your regular everyday detergent is sufficient. While not required, you can use a disinfecting detergent.
3. Dry on high heat.
4. When done, store the mask in a clean Ziploc bag until ready to use.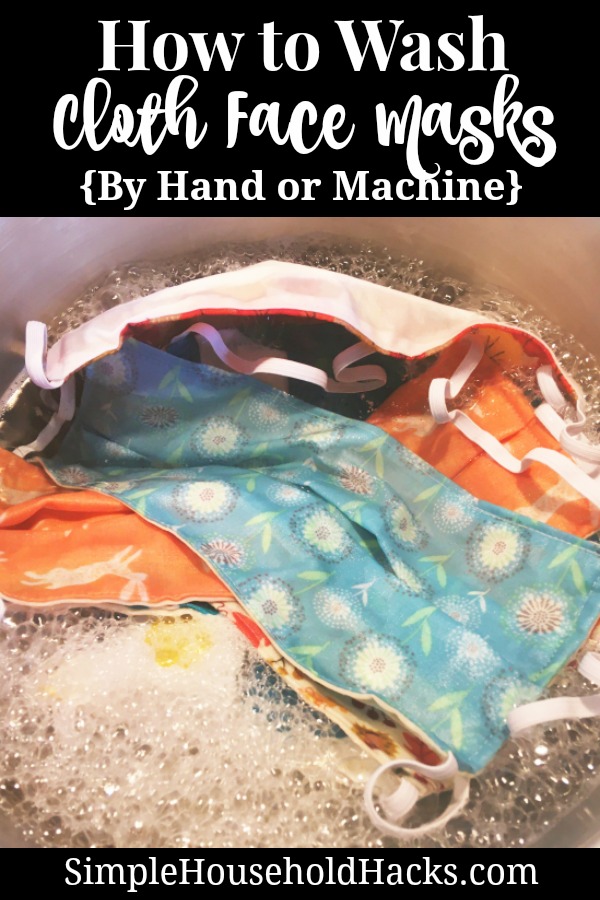 How to clean cloth face masks by hand:
1. Soak the mask in a sink full of hot and soapy water. You can use the disinfecting detergent as mentioned above. If you prefer bleach, the CDC recommends you prepare a solution of 5 tablespoons of household bleach per gallon of room temperature water, or 4 teaspoons of household bleach per quart of room temperature water. Remember that bleach will bleach your masks. Color-safe bleach per the CDC does not have the same cleaning effect. If you don't want to bleach out the coloring on your mask, a sanitizing detergent may be more suitable.
2. Soak for 15 minutes if using regular detergent, and 5 minutes if using bleach.
3. Wring the mask out several times and rinse clean with room temperature water.
4. You can either hang dry the mask in a sunny window or place in the dryer on high heat.
5. When done, store the mask in a clean Ziploc bag until ready to use.
Is microwaving face masks a good way to sanitize them?
You may have seen the idea of microwaving your face masks in order to clean them circulating on the internet. So is microwaving your face mask an option? The answer is NO. The fabric used in these masks can easily overheat and catch fire in the microwave. Disposable masks often have metal pieces in them, which could also pose a fire hazard. (Remember, disposable masks are always single use only)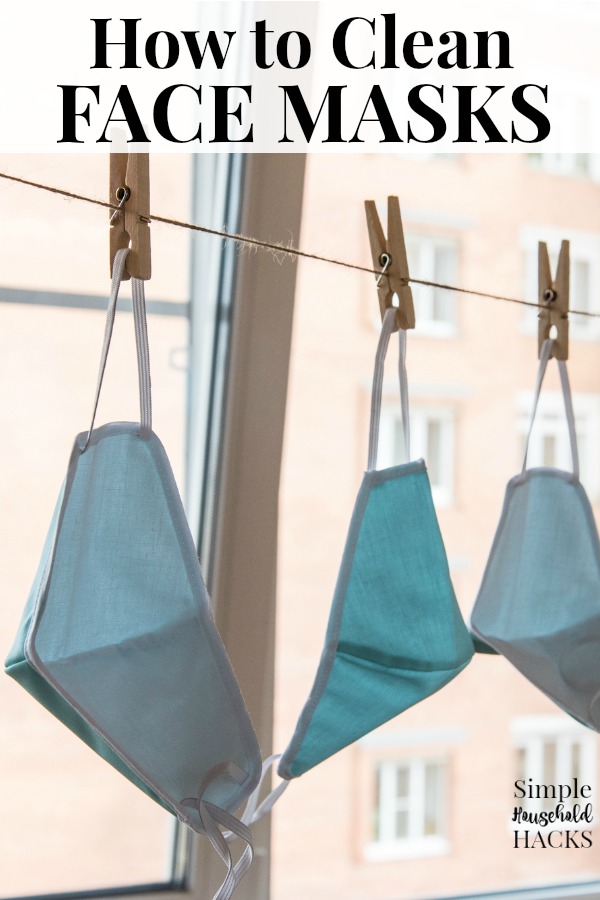 Can I use sunlight to disinfect my face mask?
While it is a great idea to dry your face mask in a bright, sunny window if a hot dryer isn't an option, you should not depend on the sun solely for disinfecting. The sun will not be able to kill all of the germs alone in a short period of time. Wash your mask either by hand or machine prior to sun exposure is advised.
Can I use UV light machines to clean my face masks?
There has been a great deal of talk around the use of UV lights to kill viruses, which has sparked the idea of using UV lights to sanitize face masks. Experts are not recommending this method as the light machine itself can pose certain dangers. Because UV light machines give off potentially cancer-causing rays, the use of the machines at home isn't advised. They can cause more harm than good especially if they are used incorrectly.
More Mask Disinfecting Tips:
Use a scent-free/dye-free detergent when washing your face mask if you have allergies or skin sensitivities. If you are naturally disturbed by strong scents, a scent-free detergent is ideal for you as well. This way, you aren't breathing in the heavy scent when you wear the mask.
A quick spray of Lysol isn't a sufficient way to clean your mask. The spray won't penetrate the fabric and kill germs as it should. This is why washing is recommended.
KEEP TWO MASKS ON HAND. This way you have one to wear while the other gets washed/dried. You want to have a back up at all times.
Never share masks, even amongst family members.
Masks that are heavily soiled, torn, wearing thin, or no longer fitting properly should be thrown away. Do not attempt to mend, treat, or revive these worn-out masks.
Wash your mask as soon as possible after removing it. If you can't wash it right away, put it in a Ziploc bag until you are ready. Throw the bag away once the mask is removed.
Since a face mask touches your nose, mouth, and face for long periods of time, don't you want it to be as clean as possible? As you can see, cleaning and sanitizing your face mask doesn't have to be terribly complicated. Get into the healthy habit of washing and sanitizing your face masks thoroughly, so you can be sure you are keeping as many germs at bay as possible!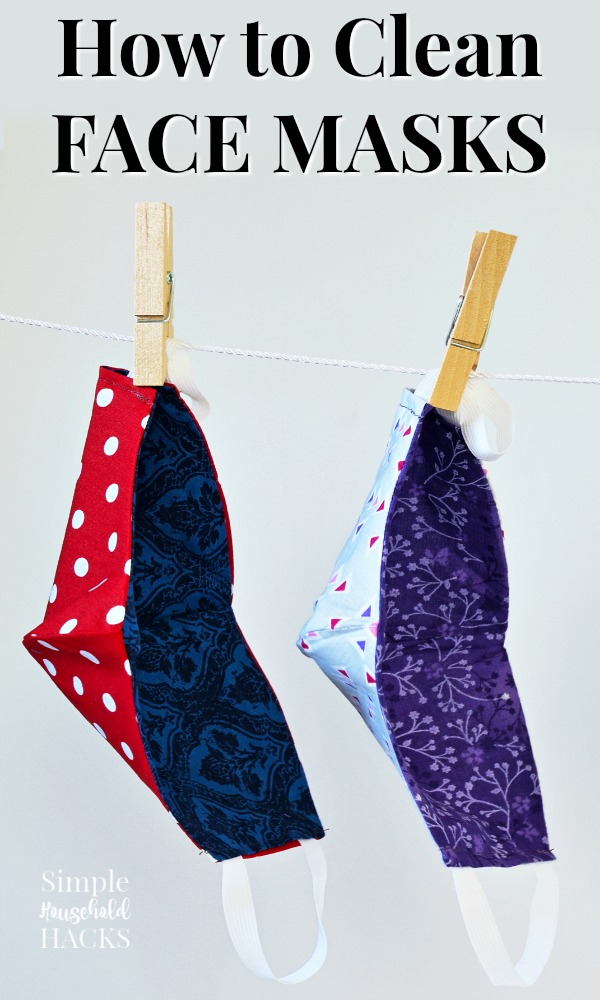 More Laundry Hacks
More Face Mask Tips
Face Mask Patterns with Filter Pockets